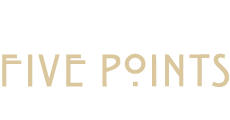 THE RESIDENCES AT FIVE POINTS PRIVACY POLICY

The Residences at Five Points ("The Residences at Five Points," "we," "us,") shares your concerns about the protection of your personal information online. This Privacy Policy (the "Policy") describes our practices regarding the privacy of information that we collect through our Internet websites, located at www.theresidencesatfivepoints.com (the "Site"). By using the Site, you signify that you agree to the terms and conditions of this Policy. If you do not agree to this Policy, please do not use the Site.

What Information Does The Residences at Five Points Collect?
The Residences at Five Points collects two types of data about visitors to the Site ("Visitors"): (a) "Personally Identifiable Information"—that is, information from which an individual can be identified, such as an individual's full name, email address, home address, and telephone number, that individual Visitors provide when using certain of the Site's features; and (b) "Tracking Data", which is automatically collected from every Visitor. Our collection of Personally Identifiable Information and Tracking Data is described in more detail below.
Personally Identifiable Information. You do not have to provide Personally Identifiable Information to use the Site. However, your use of particular services made available through the Site may require us to collect Personally Identifiable Information from you. We collect such Personally Identifiable Information only when you affirmatively provide it to us — for example, when completing forms online, such as those forms available through our "Contact Us" or "Request Information" feature, or when answering surveys. You may be asked to provide your contact information (such as your name, postal address, telephone numbers, and/or email address), and demographic information (such as your age or ZIP code) in connection with your use of such services. Remember that no Personally Identifiable Information is actually submitted through the Site until you click the "SUBMIT" or similar button on the form into which you have entered such information.

If you contact us by email through the Site, we may keep a record of your contact information and correspondence, and reserve the right to use your email address, and any information you provide in your message, to respond thereto.
Tracking Data. Tracking Data consists of non-personally-identifiable information we collect automatically from each Visitor, such as browser type, operating system, Internet service provider, IP address, and referring page or site. Tracking Data may include information such as the pages you visit and features you use, the total number of your Site or page visits, your search terms, and the average time you spend on a page or area of the Site. Collecting Tracking Data is a standard practice on the Internet and is done automatically by many websites. We may combine the Tracking Data we collect from you with your Personally Identifiable Information and use the combined information for customer research and marketing purposes, such as to identify which Site users we think are most likely to rent a property in the near-term. We may share the results of that research with third parties, but we will not share the combined information with any third party for its own marketing or other use.

How Does The Residences at Five Points Use the Information It Collects?
When you provide Personally Identifiable Information through the Site as part of a "Lease Online" form, that Personally Identifiable Information is not stored on or transmitted through The Residences at Five Points's servers. Rather, The Residences at Five Points has contracted with a third party service provider to capture such information, encrypt it, and transmit it to our community. By entering your Personally Identifiable Information in this context and clicking the "SUBMIT" or similar button, you are authorizing the sharing of your Personally Identifiable Information in this manner.

Except as otherwise set forth in this Privacy Policy, we do not currently share your Personally Identifiable Information.

Disclosure to Service Providers. The Residences at Five Points works with third parties who provide services that may include, but are not necessarily limited to, website hosting, data analysis, email services, and other services of an administrative or technical nature. The Residences at Five Points reserves the right to share Personally Identifiable Information with such third parties for the purpose of providing such services.

Disclosure of Tracking Data. The Residences at Five Points uses Tracking Data to create aggregate reports on Visitor demographics, Site traffic patterns and user behavior, and may provide these reports to advertisers and other third parties. None of the foregoing information that we may provide to such advertisers or third parties is personally identifiable — that is, can be connected by such advertisers or third parties to the Personally Identifiable Information supplied to The Residences at Five Points by individual Visitors.
Use of Email Addresses In Sending Notices Regarding the Site and Our Policies. From time to time, in our sole discretion, we may email information regarding the use of the Site or its services, or changes to our Terms of Service or this Policy, to Visitors who have provided us with their respective email addresses, whether through a specific Site service, an email link, or otherwise. Visitors may not "opt out" of receiving these emails.

Other Disclosures. Finally, and notwithstanding any other provision of this Privacy Policy, The Residences at Five Points reserves the right to disclose Personally Identifiable Information about our Visitors or other users to third parties under any of the following circumstances: when we believe in good faith that the law permits it (for example, in response to a court order or a subpoena); to our legal advisors; to enforce our Terms of Service; to protect the rights, property, safety or security of The Residences at Five Points, our Visitors, or the public; or to respond to an emergency.

Other Important Notes Regarding Privacy.
Security. The Residences at Five Points has security measures in place to protect against the loss, misuse, and alteration of that Visitor information which is under our control. Unfortunately, no security system, or system of transmitting data over the Internet, can be guaranteed to be 100% secure. As a result of the foregoing, while we strive to protect your Personally Identifiable Information, we cannot guarantee the security of our servers, the means by which information is transmitted between your computer and The Residences at Five Points' servers, or any information provided to us or to any third party through or in connection with the Site, and you provide all such information at your own risk.

Upon your request, we will make reasonable efforts to remove your Personally Identifiable Information from our active databases. To make this request, email us at live@theresidencesatfivepoints.com. Such information will be corrected or deactivated as soon as reasonably possible. Please note that we may need to retain certain information for record-keeping purposes, and there may also be residual information that will remain within our databases and other records. We reserve the right, from time to time, to re-contact former Visitors to the Site.
Please note: we are not responsible for retracting Personally Identifiable Information from third-party lists or from entities with which we have shared your information pursuant to the terms and conditions of this Policy.
Third Party Sites and Services. Third parties may collect information about you, through cookies (small data files containing information that is written to a user's hard drive by a web server) or other technologies, when you link to their websites from the Site. In addition, your Internet or other service provider(s) may collect information about or submitted by you while you use the Site or other websites on the Internet. You acknowledge that we do not monitor or control the websites or information collection or privacy practices of these or any other third parties, and are not responsible for their practices or the content of their websites or services. We provide links on the Site to third party sites only as a convenience, and the inclusion of a link on our Site does not imply our endorsement of the linked site. You should review the privacy policies of such third parties to understand how they collect and use information.

Banner Advertisements. The Residences at Five Points reserves the right to use Google Analytics' third-party audience data to better understand the behavior of our customers and work with companies that collect information about your online activities to provide advertising targeted to suit your interests and preferences. For example, you may see certain ads on this website or other websites because we contract with Google and other similar companies to target our ads based on information we or they have collected, including information that was collected through automated means (such as cookies and web beacons). These companies also use automated technologies to collect information when you click on our ads, which helps track and manage the effectiveness of our marketing efforts. You may opt out of the automated collection of information by third-party ad networks for the purpose of delivering advertisements tailored to your interests, by visiting the consumer opt-out page for the Self-Regulatory Principles for Online Behavioral Advertising at http://www.aboutads.info/choices/ and edit or opt-out your Google Display Network ads' preferences at http://www.google.com/ads/preferences/.

Specific Exclusions. This Privacy Policy does not restrict or prohibit The Residences at Five Points's use or disclosure of public information or of information that was not provided by Visitors themselves to The Residences at Five Points Furthermore, The Residences at Five Points reserves the right to transfer any and all information that we collect from Visitors, or that we otherwise collect concerning the Site, to a third party in the event that we sell or transfer substantially all of our assets related to the Site to such third party.
Changes to This Policy. You will always be able to determine when this Policy was last revised by checking the "Last revised" legend at the top of the Policy.
We reserve the right to make changes to this Policy from time to time, which we may provide to you by any reasonable means including, but not limited to, posting the revised draft of the Policy on the Site. Your continued use of the Site following changes to the Policy will signify your acceptance of the changes.
Online vs. Offline Practices. Please note that this Privacy Policy applies solely to our online information-gathering and dissemination practices in connection with the Site, and does not apply to any of our practices conducted offline.

Questions?
If you have any questions regarding The Residences at Five Points' Privacy Policy, please email us at live@theresidencesatfivepoints.com.